With a plethora of wine podcasts, webinars and even dedicated TV channels emerging during and since the Covid lockdowns, as well as an upsurge of Instagram 'wine influencers', one might ask, is there still a space for good wine writing, does it even exist?  Emphatically, yes it does. But life for the wine writer is always on the edge with publications coming and going.
Before I go further, because I've learned people rarely read beyond the second paragraph, you will be happy to know that my two books – in their print version – are currently on sale on this site with 25% reduction if bought singly, and a little less discount for the already-discounted double pack. Delivery is available worldwide with subsidised delivery prices, but this will ONLY last till the end of the year. Later in this piece I will tell you why…
What's good to read now
The Drop, the innovative magazine from on-line wine discovery platform Pix, published eight articles from me and I felt pushed forward with my writing in a great way by its redoubtable editor, Felicity Carter. Sadly, for her and for all the full-time employees, plus of course, us freelance contributors, Pix did not get the finance it needed to continue. September saw its demise.
Do read the Drop's articles while they are still online – in addition to my own, which included articles on Beaujolais and the Loire as well as on Jura and the French Alps, one of many star pieces was this one about tasting wine in the Antarctic. For those interested, Pix CEO Paul Mabray explained what went wrong in a long interview with Meininger's Wine Business International.
One of the best ways to find a range of interesting wine articles is to subscribe to Alder Yarrow's Vinography – he does the hard work for us in his weekly round-up, entitled 'Wine News: What I'm Reading'. I still rate the writing from the team on JancisRobinson.com, much of which is free to read. Jancis also fosters new or undiscovered writers through an annual competition – this year's theme with a plethora of free-to-read articles was the very topical regeneration. If you subscribe, you access much more including the most insightful wine book reviews by Tamlyn Currin. There are gratifyingly increased numbers of sites from top, established wine writers producing good writing several times a week written by them or by carefully selected guest writers, part free and part-subscription – check out sites from Tim Atkin, Jane Anson (mainly for Bordeaux) and Jasper Morris (for Burgundy). There are so many more – feel free to add your favourites in the comments.
More Wine Books from Independent and Small Wine Book Publishers
I have not been able to keep up with the publication of excellent new wine books in the past few years, and it's so encouraging that print is far from dead. Self-published books of high quality have been brought out on Portugal in 2021 – Footrodden by Simon Woolf and Ryan Opaz, and Simon has also this year published a second edition of his ground-breaking Amber Revolution. Find both on the Morning Claret website here. New to the ranks of self-publishing are Elizabeth Gabay MW and her son Ben Bernheim, who following Liz's well respected book Rosé: Understanding the Pink Revolution, published by Infinite Ideas, decided to self-publish a comprehensive guide, Rosés of Southern France, written after extensive tastings. You will only find it only on Amazon (sadly), but here's an upbeat review.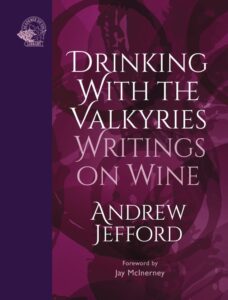 Possibly the most accomplished and beautiful self-published wine book, deservedly a recipient of several wine book awards, is the South American Wine Guide by Amanda Barnes. Amanda, who lives in Argentina and is one of the brightest young wine writers we have, has now handed over distribution of the second edition of her book to the Academie du Vin Library. Founded by the late Steven Spurrier and friends, this publisher brings out a small number of new books each year, focussing on top, insightful writing, several of them are anthologies or re-published classic tomes on wines. One of their latest books is a delightful anthology by one of the most intellectual and poetic of wine writers, Andrew Jefford. Titled Drinking with the Valkyries, Writing on Wine, dipping in and out promises any wine lover huge pleasure. I urge you to put it on your gift list this year.
AND … More about My Two Books
If you have not yet bought my two award-winning, self-published books, Jura Wine (2014) and Wines of the French Alps: Savoie, Bugey and beyond (2019), or perhaps you have wine-loving friends to gift them to, now is a very good time to buy.
Finally, after all these years of distributing the books mainly myself (with help from my brother and a specialist distributor, who dealt with Amazon and certain other re-sellers), I have found a new solution. Academie du Vin Library, mentioned above, will take over distribution from January – my books will be available from their site and elsewhere – on here I will have affiliate links, directing people to their site. I shall continue to sell the ePub digital versions from here, and if you must by Kindle, you know where to find those versions.
This is why I'm offering special sale prices now, so do take advantage and please spread the word. If you would like the books signed, that may be possible – it depends on timing. Thank you for all your support over the years.
If you have never read any of the reviews on my books, here's a good one from Tamlyn Currin about Wines of the French Alps, and you can find a detailed video review about Jura Wine by Per Karlsson, writer, photographer and with his wife, Britt, leader of a wine tour company.
Finally, I should mention that for the first time, I was asked to update the Jura, Savoie and Bugey entries in the Hugh Johnson's Pocket Wine Book, under general editor Margaret Rand – the 2023 is out now and it's always a great stocking filler. There will also be an article on Savoie wine by me in the next edition of Decanter magazine, but future big writing projects for me are on pause, while I consider what is next and move into my new French abode.
And in the end…
Reading about the intricacies of wine is not for everyone, but I find it surprising that even after so many years I can still learn, smile and be amazed by words on wine. Never will I be able to write like Andrew Jefford. Here is what he wrote about Stéphane Tissot's 2011 Château-Chalon in his book mentioned above. It concludes his description of a tasting with Stéphane ending with his Vins Jaunes, I would guess this tasting was in 2018.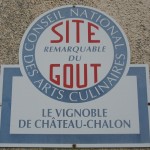 "And then the 2011 Château-Chalon: suddenly a counter-current. Quietness fell in the glass. There was nuance, cream, subtlety, forest whispers; spring on the move. In the mouth, always that bolt of acidity – and, as with great Riesling, all the drama of flavour is acted out inside the acidity. This is a young Château-Chalon, so the forest mushrooms, the umami beat, have barely begun; instead there's a crackle of early summer fruit, of plants trodden underfoot, of crushed acorn and scuffed heather, with a dandelion-bitter aftertaste. For all the elegance, it hangs there, driving and long: stored electricity, slowly leaching its juicy yet caustic charge."
Is this pompous? No. Is it a candidate for Pseud's corner? Possibly, but that's unfair. Is it poetic? Yes, I think it is. Tamlyn Currin writes: "Words, in the hands of Andrew Jefford, are jewels, and he cuts, shapes and sets them with lapidary precision." For me it's insightful too – I just love the last sentence and, knowing young Château-Chalon, I feel I can experience and feel the energy of that wine through those poignant words.