Just over a month after the new books finally arrived from the printer, copies of Wines of the French Alps: Savoie, Bugey and beyond have been sent out to wine lovers and wine professionals based in 29 countries around the world.
This, my second book, is fast becoming known as the blue book, following on from the award-winning Jura Wine, the book with the distinctive yellow cover I published in 2014, now in its third printing, and in the hands of readers located in over 40 countries.
My Kickstarter supporters (who helped finance the publication in advance, back in 2017) were patient, and their support, both financially and morally, was invaluable and gave me a much-needed motivation to finish he book under difficult circumstances. And I have received many orders, both in advance of printing and since, from others who have discovered it through social media.
As a self-publisher, having financed the project without any regional wine sponsorship (apart from some accommodation costs kindly paid for by the Savoie, Bugey and Diois producers' organisations), it is important to me to sell the maximum numbers direct from this website. If you do not have a copy of the new book, buy it from here now and use the code WTM201019 for 20% off the price (delivery extra) – discount code valid until the end of October.
Wholesale orders and bricks 'n mortar
I remain delighted when book shops or wine stores stock my books too, as I know many people want to touch and browse a book before buying, or suddenly need a copy to find out a vital piece of information. This page shows a list of worldwide stockists, which I will add to as and when. If you are interested in buying five or more books for your store, please email me for a quotation – I don't have official distributors, I arrange shipment myself around the world.
Early reviews and feedback
The buzz on social media has been such that I have not had time to send out many review copies. Renowned sommelier Pascaline Lepeltier wrote on Instagram:
'Sunday reading – I am very excited to finally get in my hands the new book of the extremely knowledgeable and humble @winklorch. After writing a fundamental book on Jura before the region gained its cult status – without a doubt one of the most important references about the region in English, Wink dedicated her next work to the French Alps. We needed this book as Bugey and Savoie have been considered for too long secondary regions compared to the more famous ones, yet their potential is real and starts to be revealed to the wine world. Thanks a lot Wink for all these researches done with a true passion for the producers in a difficult moment of your life. We can't wait to welcome you at @racines_ny in October for a wine dinner celebrating them!'
And there were two early very positive blog post reviews from confirmed fans of Alpine wines: on David Crossley's Wide World of Wine, well known to British natural wine fans. and on the Artisanswiss blog.
September/October: Meet me in the US and in Sweden

I shall be presenting various educational seminars and classes, as well as being there for many more informal tastings and book signings in the United States from mid-September for a month. This is a chance for you to buy a book and have me sign it, or buy another signed for a friend. Or, if you already have a signed book, please just come by to taste and say hello. Here is the programme (which will be added to and/or amended over the next few weeks):
18th September: Verjus, San Francisco – tasting and book signing
20th September: K & L Wines, San Francisco – tasting and book signing
23rd September: Wine Education Council Savoie seminar, San Francisco (NOW FULL)
25th September: Domaine LA, Los Angeles – tasting and book signing
26th September: Lou Wine Shop, Los Angeles – tasting and book signing
27th September: Renegade Wines, Santa Barbara – tasting and book signing
3rd October: Racines, TriBeCa, New York – dinner event with Pascaline Lepeltier
4th October: Chambers Street Wines, New York – tasting and book signing
7th/8th October: Capital Wine School, Washington DC – trade classes on Jura and Savoie
9th October: Weygandt Wines, Washington DC – tasting and book signing
11th October: The Wine Guild of Charlottesville, Virginia – tasting and book signing
In Sweden, Vin & Natur are joining with other Swedish importers of Savoie and Bugey wines to organise seminars and tastings with me for both trade and consumers on Monday 21st October at Stockholms Vinkällare and some other events in the city on Tuesday 22nd October. I'm hoping also to be in Copenhagen at the end of that week, events to be confirmed, please get in touch if you want to host me for an event in Denmark.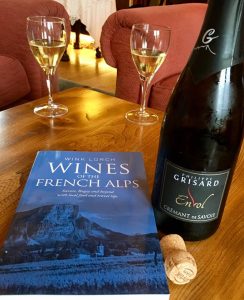 I am planning an event in London in November, to be confirmed. In Paris, I shall be at the Pétavins organic Savoie wine tasting on Monday 18th November.
In the meantime the vignerons of the French Alps, in Savoie, Bugey and elsewhere are expecting a small but high quality harvest, which will begin in earnest in mid-September. Many areas have experienced a difficult summer, with some vicious hailstorms, destroying this year's crop, and very high temperatures, slowing down vine growth.
Thanks for all your support in buying my books – they have indeed involved an intense period of work to research, write and produce. I'm looking forward to returning to my work as a wine educator, delivering more training and speaking engagements around the same themes as my book. Please contact me if you have ideas on this for the future.