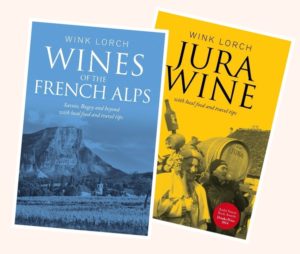 What a rocky start to the year this has been for everyone. My heart goes out to all those affected directly by Covid-19 and my heartfelt thanks to the medics and others who are working or volunteering practically in the health and care sectors, and to those working hard in the supply of the essentials, and more.
I am happy that my two books may have given a glimmer of pleasure – or indeed added useful information – for so many people and am grateful for the very positive feedback.
There has been an upsurge in demand for the Jura Wine book, so much so that I had to order a fourth printing. The shipment from the printer to the UK almost became stuck with borders being closed and with my normal warehouse/distribution service being closed very suddenly. However, now the books are safely in store, and ready for despatch. Logistics reasons at my wholesale distributor mean that books can only be ordered through this website (or by contacting me directly for larger orders), and I am pleased to offer continued delivery, see below..
Wines of the French Alps Accolades
I have entered my latest book into several book award competitions, and I was honoured that it was shortlisted for the Best Drink Book in the André Simon Food and Drink Book Awards. I was able to attend the ceremony and although I lost to the 8th edition of the World Atlas of Wine (for which I was a consultant on the Jura, Savoie and Bugey chapter) some extremely kind words were expressed by the judges. I have received numerous excellent reviews for the book, which are very gratifying, and I have amalgamated highlights of reviews on a new page on this website, also giving more detailed information about the book.
Ordering the Books and Delivery Services
Recently my brother Rob has become quite simply my hero. In his Derbyshire countryside retirement retreat, he handles the vast majority of my book deliveries – I do the paperwork, he packs and despatches. Usually single or double book orders are despatched from the UK post office worldwide. But given that Rob and his wife Chris are both over 70, I have forbidden them to go out to the post office right now. Instead, I arrange for packages to be collected from their house.
Collections need to be amalgamated to be cost-effective, so despatch may be a little slower over the next few weeks, but usually we arrange a couple of collections per week. Deliveries to you are mainly by courier, but in some instances the local post office at the customer end takes it on. There are some areas where deliveries are impossible due to severe lockdowns and some where the price for delivery in this way is prohibitive for one or two books (notably Switzerland). If you order and it is impossible to deliver, I will advise you right away and refund your payment.
Forgive me not offering a discount, but not only am I often subsidising delivery in order to continue offering the service, but also, like everyone else, my scheduled speaking work has been postponed or cancelled.
E-books
Some of you may know that Jura Wine is available on Kindle and iBooks as an e-book, based on the original edition and I have recently made a significant price reduction so do take advantage. Note that I receive more money if you buy it as an iBook (or other similar platform) rather than as Kindle from the greedy Amazon corporation. I am currently taking this time to prepare a conversion of the new Wines of the French Alps book and am pleased to advise that it will be widely available as an e-book towards the end of April.
One other essential service that continues across the world is vineyard and winery work. I follow several vignerons from Jura and the French Alps on Facebook and Instagram, and the spring vineyard work is continuing apace, with tying up the vines, ploughing and planting going on; all hope fervently that a spring frost does not hit. In the meantime many 2019 cuvées are being bottled.
I wish you good health and hope that you can profit from this self-isolation to enjoy sensibly a wide range of interesting wines and to read wisely a wide range of inspiring wine and other books. Thank you for your support.