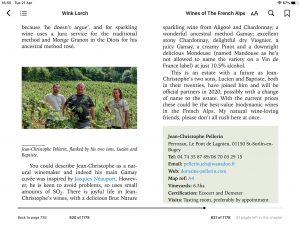 An ebook is never the same as a printed one, especially when the original is highly illustrated, but there are some advantages. They are highly convenient when you are travelling, or when you are stuck somewhere away from your library, or as possibly now, you just cannot receive deliveries easily and safely. And, the hyperlinks can be useful too.
I am pleased to announce that the ebook conversion of Wines of the French Alps is complete, with words, pictures and maps all present and correct, along with page cross-references now shown as internal hyperlinks jumping to the right place, I hope. It certainly kept me busy for a few days. And below is a very special offer for those who already have purchased the print version of the book.
Ebooks come in two forms of software: Mobi which is almost exclusively for the Amazon Kindle, and ePub, which is for almost all other tablets, telephones and even laptops, through Apple or many other providers.
The Kindle version of Wines of the French Alps on Amazon (this is the US link) can be found across the Amazon network – just search for Wines of the French Alps and you will find it. Note that I earn very little through Amazon and discounts are impossible to pass on to you.
The Apple version for iPads and iPhones will be available very soon and I will edit this to add those links then. I am happier when you buy it this way!
Buy ePub versions direct from this website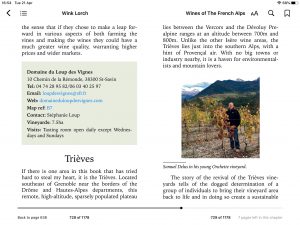 Best of all for my faithful followers, the ePub version of Wines of the French Alps is now available to buy here on this website. You simply purchase in the usual way and receive a download link, which once clicked will upload the e-book straight to your device. The price is the same as it is everywhere in GB pounds, £17.95 and this is converted by your credit card provider into your currency.
I have also uploaded the ePub version of the Jura Wine book which is now at a very good price of just £9.99.
Very special offers to owners of the Wines of the French Alps print book
If you have already bought the book via this website or as a Kickstarter supporter, and would like to own a digital version, contact me via email to receive a code for 50% discount off the price of an ePub version here on this site. All I need is some form of proof of purchase: if you are a Kickstarter supporter, your name (as it appeared in the book) is sufficient; if you purchased the book on this website, then your order number or simply the email address you used when buying is sufficient.
Second very special offer if you buy the Wines of the French Alps Ebook on this website
Until 31 July 2020, for anyone who buys the ePub version from this website, I will also send a special offer code for a 30% discount off the purchase of the Wines of the French Alps print book.
Enjoy the time you have to read and learn more about wine. I've always thought that the stories behind a label make wines taste even better. Stay home for now and stay well.